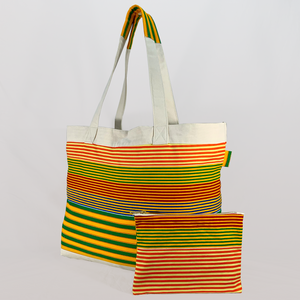 Red Hook Textiles
The RHT Weekender | Natural
Sale price Price $120.00 Regular price $0.00
This soft canvas tote is designed for the ambitious yet practical traveler. From quick weekend trips to longer flights, we sized it deep enough to carry bulkier items yet light and flexible enough to store in the overhead. Reinforced stitching makes sure this one will still be in the rotation for your next trip around the world or around the corner.
Plus, the removable zip pouch ensures that your phone and other valuables always remain close at hand, even when your Weekender isn't.
One of a Kind:
Red Hook Textiles is defined by our distinctive African-style prints. For each bag, our tailors apply the printed fabric in a unique combination. For example, the strap of one bag might feature alternating green and yellow stripes, while the next bag might have a strap with blue and red.
It's a feature of these prints that we love and one that ensures your bag is unique to you.
Dimensions:
Weekender: 23.5"W x 18"H x 7"D
Strap Drop: 14.5"
Zip Pouch: 10"W x 7.5"H
Materials:
100% cotton canvas, 100% cotton wax-block print, high-quality magnetic closure.
Origin:
Manufactured in Senegal.