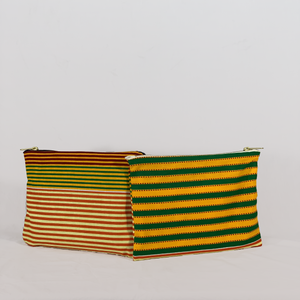 Red Hook Textiles
The RHT Zip Pouch
Sale price Price $40.00 Regular price $0.00
Carry RHT - now in small!

Fresh out of the Red Hook Textiles Labs, our pouch keeps everything you need at hand for whenever you need it. We use it as a clutch when heading out or simply as an accessible case to keep our phone and other valuables close at hand and zipped safely.
However you decide to use your pouch, you'll love the distinctive styling: each side features a different view of our original Kente Stripe - a bold green with red dashes on one side, and a multi-colored strip on the other.

One of a kind
Red Hook Textiles is defined by our distinctive African-style prints. Each pouch is cut from a different part of the print swatch, so each pouch is unique. While your pocket will look very similar to the photo, it will never be exact. 
It's a feature of these prints that we love and one that ensures your pouch is unique to you.

Dimensions:
Zip Pouch: 10"W x 7"H
Materials
100% cotton canvas, 100% cotton wax-block print, high-quality copper YKK zipper.

Origin:
Manufactured in Senegal.